Capital of Light and Perfume
Located close to Paris and the Châteaux de la Loire, Chartres benefits from an international fame thanks to its Cathedral, listed in the UNESCO world heritage. Chartres is also famous for its amazing stained glasses, the Light show every evening from April to October, and its importance in the perfume industry with the Cosmetic Valley (Guerlain, Lolita Lempika…). Chartres is the capital of light and perfume. During your stay in the city, you will enjoy walks in the old town, in the several gardens along the river l'Eure, visits of the numerous churches, and some shopping in the dynamic city center. Chartres is the perfect spot to please everyone: from children to elder people, from couples to friends.
Visit the tourism office and the Chartres en Lumières websites.
Restaurant L'Ecume is located:
10 minutes by walk from the Cathédrale de Chartres.
Cathédrale Notre-Dame de Chartres seen by a drone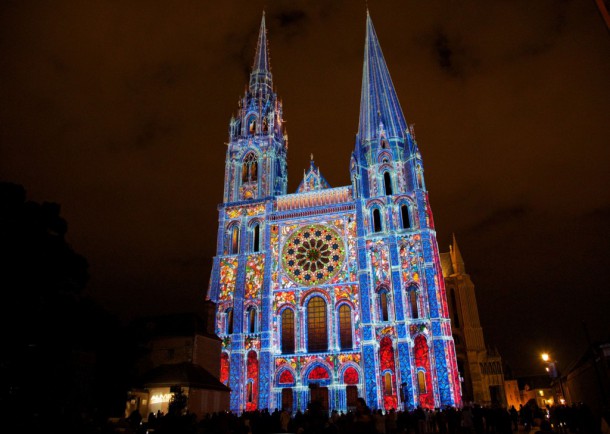 A few meters by walk from the sport club « Amzonia » (gym, hammam, sauna…).
200 metres by walk from the Grand Monarque's Spa.
5 minutes by walk from all the markets happening on Saturday (Fruits and Vegetables, Flowers, Clothes…).
A few minutes by walk from the centre international du vitrail.
2 km by walk from the park « La petite Venise », offering pedal boats, canoes, small boats, miniature golf, animals, kids games and sport areas.
10 minutes by car from the pool complexe « L'Odyssée » with olympic pool, toboggans, rapid river, diving pool, ice rink…
11 km from a sailing center.
First flights in hot air balloon at 18km and 20km.
2 golf courses: at 22km and 29km.